Blog
Keeping up with the times, sharing news, views, insights, and lifestyle tips - information helpful to all the players of the entertainment industry.
SIERRA BOGGESS - INSPIRATION AT 54 BELOW
By SW ARTISTS BLOG | December 05, 2013 at 08:27 PM EST |
No Comments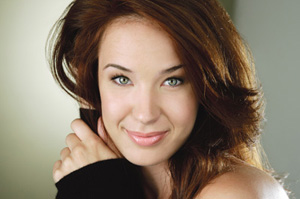 Listening to beautiful and enchanting Sierra Boggess, best known for her turn as Broadway's little mermaid Ariel, sing live at the swanky hotspot 54 Below is like sitting under a tropical waterfall. You feel refreshed and purified awashed by the thrilling soprano's notes. This is a good thing since the show she is performing there through the end of the week is entitled "Awakening" and serves to debut the release of her first CD, a recording of the self-same show.
It hasn't been a stellar year for Ms. Boggess. Without going into the gory details here, suffice it to say it's been a year of disappointments. Of certainties and possibilities evaporating into dust—death to a performer. All this could sink the spirit of any game person and leave one in a soup of self-doubt, depression, and stagnation. Not so with Ms. B. Happily the "plucky" actress/singer chose a different avenue. She embarked on a spiritual journey of inward travel where she re-connected to her inspirations, and then sharing these with us in an evening of up close and personal meaning, she leads us vicariously on an awakening (or several) of our own.
There's her three artistic inspirations—Puccini, Prince (as in Harold) and Webber (as in Andrew Lloyd). You will enjoy a naughty pastiche where she offers up a rendition of Christine Daae's "Think of Me" sung as a pop diva full of wild riffs buttressed against a number from EVITA done as an opera diva. It is an entertaining duel of nasality and vibrato.
And of family inspirations. She invites her sister Summer, a gifted cellist, on stage to lend her musicality throughout the evening. At one point the Coloradoan native gives a nod to her "normal" father (different from the monster fathers of her stage dramas) who just happens to be in the audience. He comes up on stage, picks up an acoustic guitar which he made himself and joins Sierra and her sister in a lovely Dolly Parton tune called "Wild Flower." This leads nicely into the nature portion of inspirations.
There's so much more. A highlight is when Ms. Boggess reads a letter her grandmother wrote to her new husband (Sierra's grandfather) just off to war with the sweetness of a romance of a time gone by. This sets up a superb styling of the standards "Smoke Gets in Your Eyes" and "You'll Never Know." There are fun moments where Ms. Boggess takes us on her excursion to meet her musical idol Barbra Streisand and we get to feel like the uber fan she is. In the liner notes which accompany her CD (and on stage) Ms. Boggess thanks Ms. Streisand for being the "soundtrack of my life." This is a touching set up for the much overdone Kander and Ebb classic "It's a Simple Thing" made fresh and new by Ms. Boggess.
The evening would not be the same without Ariel's song and we delight in listening to the one soprano whose acting ability makes it seem like a true event of the moment filled with yearning, hope and belief. Cute without cloying...how does she do that?
It's not enough to speak of the high notes that reach the furthest star in the heavens. Or the bright eyes and smile that radiate a genuine warmth to everyone in the room. But it is enough, to quote one of Sierra's inspirations—her voice teacher Mary Setrakian, to say back to her..."You are enough, you are more than enough."
"Awakening," with Sierra Boggess, Summer Boggess, Mike Boggess, and Musical Director (pianist) Brian Hertz. Performing through December 7th at
NYC's 54 Below
.
—Margaret Emory