News and Events
SW ARTISTS Talent

DAVID TILLISTRAND
HOME FOR THE HOLIDAYS
CARVER DUNCAN
as Tulsa in
GYPSY
, Farmers Alley Theater
TYLER SAUTNER as Horton in SEUSSICAL KIDS
Pixie Dust Players, Rahway, NJ
KIMBERLY IMMANUEL (center) as Peggy Sawyer in 42ND STREET
Chicago's Drury Lane Theatre
STEVE HAMM in THE MARVELOUS MRS. MAISEL
MEREDITH ZAHN
as Sandy in
GREASE for Royal Caribbean Cruise Lines
ROY FLORES
as Jesus in Aristree production of
GODSPELL
JAYLA NICHOLAS with David Beckham for UNICEF
RICHARD SPITALETTA as Twitter Tweet
ME THE PEOPLE
Triad Theatre, New York City
LOIS MARKLE as Daisy
DRIVING MISS DAISY
Hope Summer Repertory Theatre
TONY EDGERTON as the Beast
BEAUTY AND THE BEAST
Arizona Broadway Theatre
SHABAZZ GREEN as Curtis
SISTER ACT
Lake Dillon Theatre
EMILY GULDEN
in
ZOMBIE PROM
Mississippi Bend Players
NICHOLAS EDWARDS as Jesus
JESUS CHRIST SUPERSTAR
Signature Theatre DC
BEN CULLEN as Gaston
BEAUTY AND THE BEAST
Arrow Rock Lyceum Theatre
DANA J. FERGUSON
STRAYER UNIVERSITY
ANTONY & CLEOPATRA
Orlando Shakespeare Festival
MICHAEL HAJJAR as Berger
HAIR
Midtown Arts Center, Colorado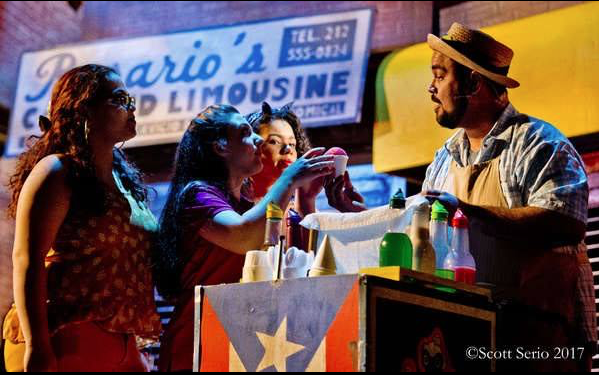 CHRISTOPHER MICHAEL MCLAMB
Piragua Guy in
IN THE HEIGHTS
ADRIANNE HICK as Betty Blast
FOOTLOOSE
Surflight Theatre
BRIAN MICHAEL HENRY as
Half Man Half Woman
MARIA DECOTIS as Colleen
DRYDEN TRUE CRIME SERIES
JEFFREY JOHNSON II as Cogsworth
BEAUTY AND THE BEAST
Theatre by the Sea
TYLER CAFFALL
The voice of MASSAGE ENVY
RACHEL O'MALLEY (in ring)
HETTY FEATHER
Delaware Theatre Company
WALID CHAYA
THE BLACKLIST: REDEMPTION
EMILY CLAIRE HUGHES
AIDAMAR
TYLER SAUTIER as Ralph
A CHRISTMAS STORY MUSICAL
Count Basie Theatre, New Jersey
BARBARA MILUSKI as Judge Peck
LAW & ORDER: SVU
NICHOLAS EDWARDS
in
SPAMILTON
Triad Theatre, New York City
MICHAEL MAROTTA
as Bing Crosby in
TENDERLY
Ivoryton Playhouse
ADRIANNE HICK
as Lady Beaconsfield in
JEKYLL & HYDE
Korean Tour
IVAN MOORE
as Reverend Willie in feature film
PIMP
MYCHAL PHILLIPS
as Columbia in
THE ROCKY HORROR SHOW
Gateway Playhouse/Ogunquit Playhouse
JACKSON WRIGHT
in studio for
NEW YORK KIDS IN SCHOOL
EMILY CLAIRE HUGHES
in
A SCYTHE IN TIME
NYMF 2016
JOHN EVANS REESE
as Geoff in
A TASTE OF HONEY
Pearl Theatre Company, New York City
AMBE JULIA WILLIAMS as Calpurnia in TO KILL A MOCKINGBIRD
Mirror Repertory Company, Greensboro, VT
ALEXANDER KOSMOWSKI
in
RING OF FIRE
Potsdam Music Theatre
KIMBERLY IMMANUEL as Luisa in THE FANTASTICKS
Snapple Theater Center, New York City
ADAM HUEL POTTER as Da in ONCE
National Tour
BLAKE PATRICK SPELLACY
as Freddie Benson in
DIRTY ROTTEN SCOUNDRELS
Arts Center of Coastal Carolina
CYNTHIA BASTIDAS
as Aurella in
INFORMED CONSENT
Gulfshore Playhouse
DAVE THOMAS BROWN
as Georgia McBride in
THE LEGEND OF GEORGIA McBRIDE
Manhattan Class Company (photo: Joan Marcus)
BRIANA POZNER
as Gwinnie Showalter on
THE KNICK
PETER HOURIHAN
as FBI Agent,
MADOFF MINISERIES
MALIKA NZINGA (right) with Joy Bryant on the set of Amazon's THE GOOD GIRLS REVOLT
KAYLEE VERBLE on DISNEY CRUISE LINE
NATE WASHBURN in an episode of LMN's I LOVED YOU BUT I LIED

KIMBERLY IMMANUEL
(far right) in American Premiere of
WATERFALL
Pasadena Playhouse
ED CARLO
as Huey for
NOVARTIS INDUSTRIAL
KENNY FRANCOEUR's
BROADWAY DEBUT in
THE BOOK OF MORMON
JELANI ALLADIN
as Pharus in
CHOIR BOY
poster
Studio Theatre, Washington, DC
GLENN JONES
as Scientist in short film
PRODUCT RECALL
ABENA MENSAH-BONSU
as Rafiki on the
DISNEY FANTASY
CARVER DUNCAN
as Dream Curly in
OKLAHOMA!
Dutch Apple Dinner Theatre
ELENA McGHEE
as Cheryl in indie film
PARENTS OF THE GROOM
BLAKE SPELLACY
as Lucky in
DAMES AT SEA
Wick Theatre
DON JUHLIN as Courtroom Sketch Artist in SPRINT COMMERCIAL
LANA NEUMAN as Dainty June as Dainty June in GYPSY
Arts Center of Coastal Carolina
TYLER CAFFALL on THE KNICK
BRIANA POZNER on THE BLACKLIST
GRANT NEALE as Sheriff Deon Gilbeau in AUGUST: OSAGE COUNTY
Arkansas Repertory Theatre
EMILY CLAIRE HUGHES as May in JUNIE B. JONES
Theatreworks USA tour
FRANCOIS MENSAH as XYZebra in indie film STEALING CHANEL
GARY MARACHEK as Sancho Panza in MAN OF LA MANCHA
Alhambra Dinner Theatre
BRIANNA-MARIE BELL as Kiki in the National Tour of FLASHDANCE - THE MUSICAL
Photo credit: Chad Bremerman
KEVIN SEBASTIAN
(center) with Vanessa Ray and Will Estes
BLUE BLOODS, "Burning Bridges"
DAVE THOMAS BROWN
as Jason Dean (J.D.) in
HEATHERS THE MUSICAL
New World Stages, Off Broadway
DANA J. FERGUSON
on set of
AVON INDUSTRIAL
NATE WASHBURN
as Sherlock Holmes in
SHERLOCK HOLMES AND THE CASE OF THE JERSEY LILY
Cortland Repertory Theatre
GRANT NEALE
as Lillas Pastia in
CARMEN
Santa Fe Opera
CARVER DUNCAN
(center)
as Troy in
HIGH SCHOOL MUSICAL
Enlightened Theatrics, Salem, Oregon
PETER HOURIHAN
as Fritze on
BOARDWALK EMPIRE
ROY FLORES
as Henry in
SOUTH PACIFIC
Gateway Playhouse
ED CARLO
&
DANA J. FERGUSON
on set of a
BMW DEALERSHIP
commercial.
KENNY FRANCOEUR
(in stripes) in
SPAMALOT
Arrow Rock Lyceum Theatre
DANIELLE SACKS
as Annelle in
STEEL MAGNOLIAS
BRETT ARESCO
with Justin Pugh on the set for Conair ad campaign
TWINSIES
CLAIRE NEUMANN as Smitty in HOW TO SUCCEED IN BUSINESS
Stages St. Louis
FRANK VAN PUTTEN
on set of
UNTITLED ROCK 'N' ROLL PROJECT
with Bobby Cannavale & Ray Romano.
BRETT EPSTEIN
on the set for Virgin Mobile ad campaign
CATSIES
JELANI ALLADIN as French citizen and plantation worker
MADAME INFAMY,
New York Music Festival, 2014
JORGE PUPO as Bank Manager
BOARDWALK EMPIRE
CHARITY SHUBERT
in
VENUS IN FUR
River Theatre Repertory Theatre, Shreveport, Louisiana
LORENZO SCOTT
(left) with
DRIVING MISS DAISY
co-stars
Fireside Theatre in Fort Atkinson, Wisconsin
KEVIN SEBASTIAN
(right)
as Tim Allgood in
NOISES OFF
Repertory Theatre of St. Louis
FRANK VAN PUTTEN as the Morgue Attendant on THE LEFTOVERS
HOLLY O'BRIEN
in
PRINCES AND PRINCESSES
CONCERT
The Musideum in Toronto.
DAVE THOMAS BROWN
(center) as Melchior with the cast of
SPRING AWAKENING
Cygnet Theatre, San Diego

KAITLYN FROTTON
(center)
making her Off Broadway debut in
50 SHADES! THE MUSICAL
The Elektra Theatre at Times Square Arts Center, New York City
DAVID DEMATO
as Eddie in
PHILOSOPHY FOR GANGSTERS
BLAKE PATRICK SPELLACY
as Skimbleshanks
Beef & Boards Dinner Theatre's production of CATS
HERMAN SEBEK as the Engineer
Riverside Theatre Vero Beach's production of
MISS SAIGON
FRANK VAN PUTTEN
as Nazi Commandant in the series
Small Miracles
(left)
and a pharmacist in the indie I Dream Too Much.

DOMINIC MARCUS
on the set of
THE KNICK. (Nice honey-wagon!!!)
A before and after pic of
ALLEN WARREN WARNOCK
on THE KNICK
as
Clarence Dally
a "sharply attired salesman who demonstrates the revolutionary new X-ray machine
for the staff at the Knick. He looks much older than his years and has lost his
eyebrows
and
much of his hair."
(Which explains the 2 hours in makeup before the shoot!)
ELENA MCGHEE

as

Lady Bird Johnson

in
THE GREAT SOCIETY

Off Broadway.
JACK HALEY
on the set of the feature film
SCOUT
.
LEER LEARY (right) with MICHAEL BOLAND in TWELVE ANGRY MEN

(John W. Engeman Theater)

MICHAEL HANCE
in New York City Opera's
ANNA NICOLE
Brooklyn Academy of Music